Car Transportation Australia-Wide
If you're relocating between cities or across the states of Australia and asking who can move your car, then you've come to the right place. At Move My Car, we are interstate car transport specialists and offer affordable and reliable relocation and transporting services.
Move My Car has years of experience in interstate transport and knows the Australian market. We are conveniently located in a city near you and can arrange and support you throughout the move.
Whether you need a personal, commercial or government vehicle transferred, we have you covered. Our specialised fleet of transport carriers can conveniently and securely move across the states of Australia. Our clients range from those who are relocating homes, who have purchased new or used vehicles in another city, and businesses or industries that need cars shipped for clients.
Please contact us for more information on our range of services and to see whether we can assist you in saving money on vehicle transport interstate.
What is interstate car transport?
Australia has an extensive network of roads that stretch across the continent from one side to the other. Cities like Perth, Melbourne and Sydney are situated on either side of this massive country, and driving there is no simple feat. Driving from Brisbane to Perth would take 45 hours and cover a distance of around 4300 kilometres. While driving from Sydney to Adelaide would take 15 hours and cover about 1300 kilometres. Interstate car transport provides transfer services for vehicles across the states of Australia.
It aims to save you costs and handle all the administration and effort needed to do so yourself. It uses recognised carrier trucks to ship your car from one city to another so you can focus on more important things, and rest assured it will be delivered for you.
Driving would be the least effective if you're relocating or need a vehicle picked up or delivered from either side. That's why we offer to do this for you at Move My Car. There are many benefits to choosing an interstate car transport company.
Time, money and effort are the three most common ones. Another big reason for using a vehicle transport service is to prevent vehicle wear and tear, damage and mileage. If you've just purchased the car, the last thing you want to do is drive a distance and wear down the tyres, tread and engine. Also, the vehicle is prone to damages, scratches or even an accident on such a long journey.
Why use Move My Car for interstate vehicle transport?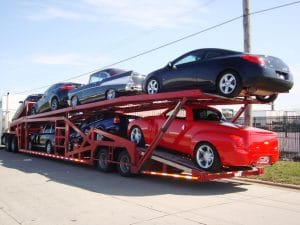 To have peace of mind when moving your car, you need assurance that it will be secure and safe while in transit. Not only that, but you also need to be 100% sure that it will be treated expeditiously, not abandoned to rust in one of the car yards in Australia. 
You have to choose the best car transport agency in Australia for your car to arrive safely and in one piece at its destination. The motor-vehicle transportation logistics are very complicated. Thousands of transport service providers make it hard to navigate this terrain, especially if you are new in this industry.
But you need not worry anymore; you can now rely on Moving Cars for all your car moving needs, whether you are a car dealer or someone who wants to buy a new car.
At Move My Car, we eliminate all uncertainties in the car moving industry by handling all the logistics and ensuring you get the best quotes, no matter where you want your car to be transported to in Australia. We have a system that automatically generates quotes, but if this fails to work, we have a team of staff who work 24/7 to deliver the quotes you need, regardless of the day or night.
Our services are available nationwide and have a perfect track record for delivering and managing the movement of vehicles interstate. We are a recognised brand in Australia and have a growing base of satisfied customers. We are familiar and comfortable with shipping vehicles across the major cities in a timely and professional manner and keep you in the loop through our responsive communication team.
What Does Interstate Car Transport Mean For You?
When you rely on our system for your quotes, you'll get them in less than an hour if you request them during working hours.
Remember, our automatic pricing covers almost 90% of the enquiries, meaning you can get the quotes instantly in the evenings or weekends and even on working days. 
Moving Cars Interstate + Long Distance
We aim to make your next car transport experience price-driven, memorable, reliable, trustworthy, and safe. Whether you want to move a private car, a government car, a local authority car, a company car, or collector bikes and cars, then Move My Car should be your number one choice.
We'll deliver all the cars intact, on time, and at the quoted price, with no hidden fees or charges. 
We can move all types of cars. Some people we've helped have moved interstate. We have even helped car hire agencies relocate to different towns and cities in Australia. So, even if you are a mining company that needs to move cars across Australia for your employees to use, we'll offer you the best deal. 
We make car moving an easy, one-stop-shop experience. Once you provide us with all the information, we'll swing into action and find the most affordable and convenient carrier for you. Then, we'll pick the nearest drop-off point for you and determine the number of waypoints that reduce the cost. 
We offer some of the best rates for interstate transport in Australia and will quote you a tailored price according to your requirements or circumstances. We look forward to hearing from you.
Please complete the form HERE or contact us for a quick and accurate quote.
Let's Partner With You
We offer impeccable car moving services backed by experts with experience and skills to move vehicles efficiently, reliably, and with unmatched care. That explains why many top car importers and removal companies have chosen us. We understand how you value your car and time. We want to have peace of mind knowing that your vehicle is in safe hands.
Working with us means you'll get the most dependable and convenient car moving service affordably.
We'll keep you informed about every stage your cargo moves and when it finally arrives at its destination. 
If you need interstate car transport services or want your car to move from one point to another, contact us for a free quote.